Styx-The Grand Illusion
Scroll Down For the Review & Info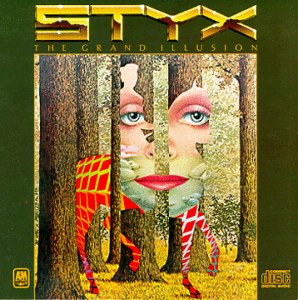 Released: 1977 A&M
Styx's brilliance can be summed up by listening to their four best albums: Equinox (1975), Crystal Ball (1976), The Grand Illusion (1977) and Pieces of Eight (1978). Nothing released neither before nor since was nearly as good. This album was the album that launched Styx into superstar status. It even had a song called "Superstars". But the song that propelled them into superstardom was "Come Sail Away". Yeah, sure they had that other hit song "Lady", from Styx II (1973). But that was from when they were on the incline to greatness. That greatness wasn't truly achieved until the Equinox album. So what made Grand Illusion stand out from the other three of the great four? Actually, it was a tough call between Grand Illusion and Pieces of Eight but sometimes tough calls have to be made. So I made it. Grand Illusion was more theme or concept oriented, which to me, makes it more impressive overall as a body of work. I was always into concept albums anyway. The album contains the obvious title track plus the aforementioned hit "Come Sail Away". Great Songs but more great songs were to come. Side two from this album (like side two from Equinox) will blow you away. The song "Miss America" is the perfect example of a great James Young guitar riff. Then we have Tommy Shaw's great vocal performance and guitar work on "Man in the Wilderness" and Dennis De Young's eerie Castle Walls". The album ends with the song "The Grand Finale" and it sums up the album perfectly. Side two is the perfect example of songs that work together to create an excellent audio experience. Equinox contains the song "Suite Madame Blue" and Pieces of Eight contains "Renegade", "Blue Collar Man" and the title track. All four albums are a must-own but of the four, I would by The Grand Illusion CD first. Then I would purchase the rest in the following order:
1. Pieces of Eight 2. Equinox
3. Crystal Ball
But, as I stated earlier, all of the other albums just didn't measure up to these four. Especially that Mr Roboto stuff. Are you sure that was really Styx? 'Cause it sure didn't sound like them. I really wish that Kilroy wasn't here. Because it drew entirely too much attention away from Styx's great works.
This Site is Brought to You By
Craypoe.com